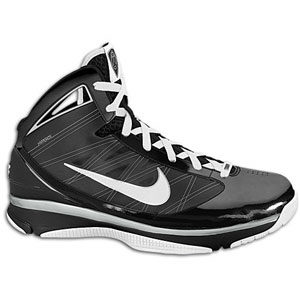 So I mentioned a little while ago that I finally bought a pair of Nike Hyperizes.  I wanted to give an update on my experience with them.  So far I've got some positive things to say, and some negatives as well.
Fit- My feet are kind of wide, so the first time I played in them for an extended time, my baby toe nearly got an blister from rubbing against the side.  I decided to tape up my toe to prevent this from happening again.  After playing a few more times, I tried no tape again, and it seems it was just a matter of breaking the shoe in for my foot.  That was a relief.  Other than this minor problem, I really like the fit.  The shoe feels snug on my foot, so when I cut and turn hard the shoe responds accordingly.
Style- I bought these shoes because I think they look cool and they're really light.  I love the Black/White/Metallic Silver color scheme.  I've gotten more than a few compliments about them at the rec center.  I should mention that the lower part of the shoe on the toes has a shiny finish.  Some hyperize color schemes have this, some do not.  It doesn't take long for these shoes to get stepped on and scuffed up to lose that shiny-ness.  Oh well that's just how it goes.  I guess that's why NBA players get new shoes every game.
Durability- So far so good, except I've notice the flywire material on the shoe above the balls of my feet are has started to wear down already :-(.  I think this area just sees a lot of bending and flexing while I'm running.
Cost- I should mention that I actually got these shoes from footlocker for $85 after tax and shipping.  They used to run about $125 before tax and shipping.  I was able to combine a couple of deals/sales they had going on to get that great price.  Definitely a purchase I am proud of.
Overall I love these shoes.  I would recommend them to anyone.  I've kinda got my eye on some of the Kobe V's if they come out with a good color scheme and if I start to make some money.