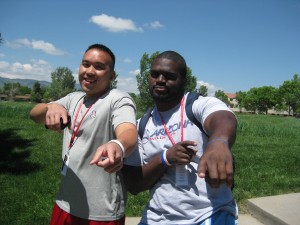 Helping move student athletes closer to God in a real way
Athletes in Action is awesome!!!  I transitioned from campus staff at the University of Arizona (UA) to AIA Headquarters in Xenia, OH in August 2013.  Most recently, in July 2015, I finished my commitment at HQ and moved back to the west coast where I will be placed at the University of California Irvine (UCI).  I will also be co-directing the Ultimate Training Camp (UTC) in SoCal.  I am extremely excited to start ministry in SoCal.  I believe it is one of the most strategic places in the U.S. for sports ministry.
This is a blessed ministry because I get the chance to engage with athletes at a deeper level.  The world we live in today holds sports and athletics in such high regard.  Athletes can make a huge impact through the platform of sport.  We recognize the need and the unique opportunity to grow athletes into devoted followers of Christ.  That's why we're here and that's what we're all about.
For more info on